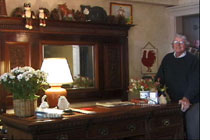 About Us
In 1986 we settled down to create the kind of hotel we always looked for in our travels: comfortable and charming, full of flowers, perfectly located, and serving a great cup of coffee.With the Golden Gate Hotel we have fulfilled our dream.
The 23 rooms of this 1913 Edwardian Hotel are uniquely furnished with antiques and wicker. Some of the baths still have clawfoot tubs. The original birdcage elevator connects the four floors and historical photographs from the heroic to the absurd line the halls, adding to the old world ambience.
Morning coffee, tea, juice and croissants are served in the downstairs parlor, a civilized start to the day. Afternoon tea and cookies encourage guests to settle in and meet other guests-as well as Captain Nemo, the household cat. We look forward to your stay at our hotel!"
John and Renate Kenaston
Innkeepers